I've never experienced anything quite like Japan. Ultramodern cityscapes are juxtaposed with traditional shrines and temples in a way that really shouldn't work -- but it just does. Without a doubt, Japan has the richest culture of any country I've ever visited. Every day held a complete and new sensory experience and I relished every second of it. From the food, nightlife, and activities to the rich culture, tradition, and history, Japan truly has it all. Most countries are lucky to check just a few of these boxes. Here are the top 7 things you have to do in Japan:
1. Chase the Cherry Blossoms
Seeing the yearly bloom of cherry blossoms in Japan has been on my bucket list for a long time. The trees weren't quite in full bloom when we first arrived. As luck would have it, we arrived in Kyoto just as the cherry blossoms were hitting peak bloom. Watching the cherry blossoms bloom and then begin to fall off the trees during the course of the trip was magical.
2. Kayak on Lake Kawaguchi
Canoeing out on Lake Kawaguchi with Country Lake Systems was the culmination of a lifelong dream. After paddling out, I just sat there in awe while watching clouds whisp around the peak of the mountain. It wouldn't have been possible to chase the light around the Kawaguchiko area without Toyota Rent a Car.
3. Experience the Robot Restaurant
Simultaneously one of the most exhilarating and confusing experiences in Japan has to be the now world-famous Robot Restaurant. The technological showcase is truly a sight to behold and is a must do for anyone who visits Japan. The experience starts from the moment you walk in the door and are completely surrounded by wall to wall neon fixtures and perfectly gaudy displays. This even extends to the bathroom. You are then ushered in to the main showroom and what unfolds in front of your eyes really has to be seen to be believed. This multi-act show is nonstop sensory overload and hilariously entertaining in a way that is quintessential Tokyo.
 
4. Go Kart around Tokyo with Maricar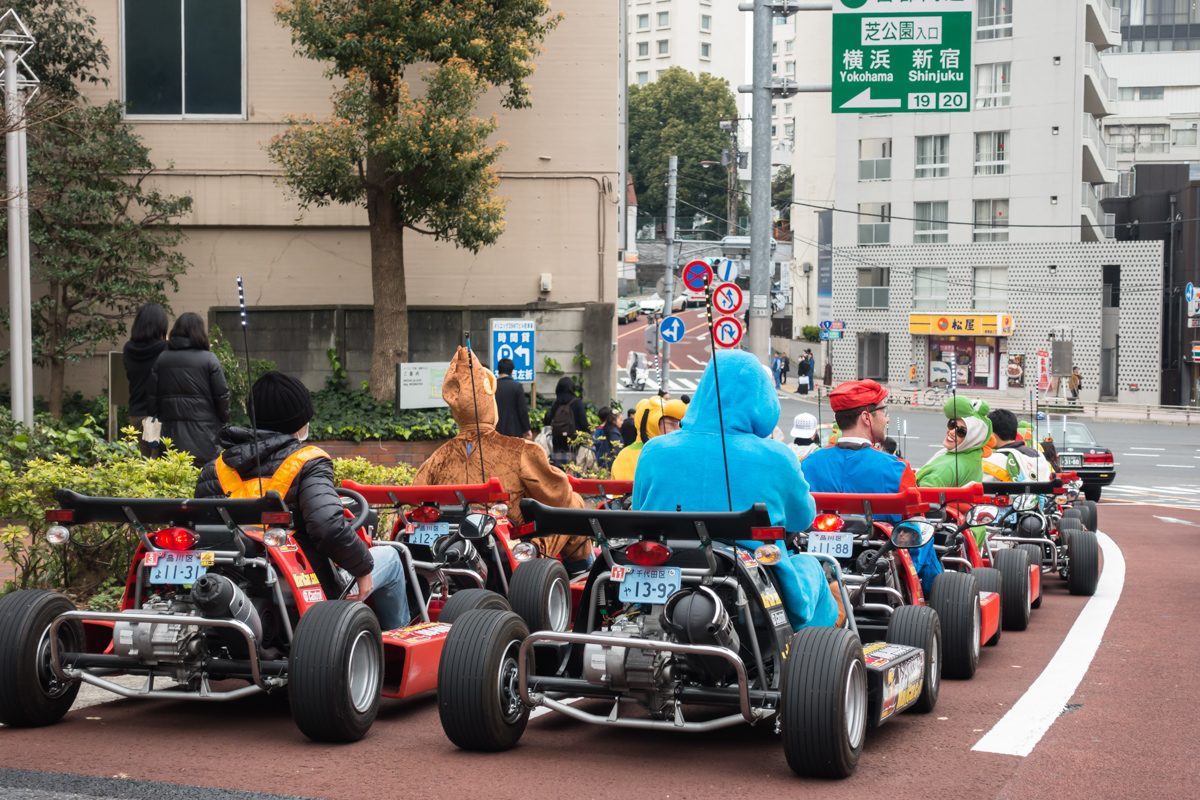 Filling a nostalgia void that no one knew existed, the Maricar experience allows you to have a real life MarioKart experience zooming around the streets of Tokyo dressed as your favorite MarioKart characters as well as countless superheroes and other favorite characters. After you browse their enormous collection of costumes (and after a very necessary safety briefing), you hit the road and before you know it you're speeding through Tokyo. Along the way, you'll spot countless people taking photos and video of you and your crew because it really must be a hilarious sight watching Mario, Luigi, and Toad speed around the corner. Definitely an unforgettable experience.
5. Spend a night at the Sakura Aquarium
Sakura season is a highlight of the year for residents of Japan and tourists alike. This excitement extends to Tokyo's premier aquarium, Aqua Park Shinagawa, which is rebranded for the season to the phenomenal Sakura Aquarium by Naked. The already impressive aquarium is given a seasonal punch thanks to the incredible projection mapping utilized by Naked in their seasonal revamp of the aquarium. The highlight of the experience is an amazing dolphin show that includes awe-inducing audio and visual components including Sakura-themed projections on a curtain of water right in the middle of the show.
6. See the lights at Nabana no Sato
Japan is famous for its winter illuminations, but none can compete with Nagoya's Nabana no Sato. Originally open only during the winter months every year, Nabana no Sato has now extended its run from October to May due to its immense popularity. With over 8 million lights creating this winter wonderland, this effect is quite a sight to behold. All around the park there are flowers illuminated as well as an audio visual light show showcasing different landscapes from around the world. The crown jewel of the park is without a doubt the illuminated tunnel. You can walk down the middle of the tunnel and have the lights envelope your entire field of vision and they extend as far as your eye can see.
7. Visit an Owl Cafe
It may sound silly, but one of the things I was looking forward to most during my visit to Japan was my first ever visit to an Owl Cafe. It's exactly what it sounds like. While in Tokyo, we visited the Mohumohu Owl Cafe Shinjuku. Once inside, you get to play with a variety of different owls and get to know all their quirks and silly personalities. Unsurprisingly, there was no shortage of owl selfies and our feathered friends were more than happy to sit on the visitors' hand, shoulder, or head. I'd be lying if I said I wasn't a little freaked out at first but it was a priceless experience!